Steamspel #7
Steamspel #7
Kände att det är dags att skapa en ny steamspel då jag hittat ett par nya spel som ser intressanta ut, snart gått igenom 30.000 spel i kön.
Gissningsvis så har jag gått igenom 300-400 spel sen steamspel #6
Hell is Other Demons - Q2 2019
Hell is Other Demons is a juicy arcade shooter with bold color schemes and a heavy synthwave soundtrack.
Lamentum is a pixel art survival horror game, set in New England in the mid-nineteenth century.
Lust from Beyond - coming soon
A Victorian mansion. A cult worshipping an otherworldly erotic deity. Among all that - you. Explore a world inspired with the works of Lovecraft, Giger and Beksiński. See for yourself that there are no limits to the dark ecstasy.
Clicker Warriors - coming soon
Get ready to battle the army of darkness. Join millions of other players and lead your warriors to victory! Choose your strongest warrior and take an endless journey to defeat creatures of darkness. Improve your warriors, upgrade your items and progress through the infinite universe
Splitgate: Arena Warfare - våren
Splitgate: Arena Warfare is a multiplayer shooter that uses player-controlled portals to create a new dimension of arena combat. Use portals to outplay, outshoot, and outflank opponents in this new, fast-paced arena shooter.
ScourgeBringer is a fast-paced free-moving roguelite platformer. Help Kyhra to explore the unknown and to slash her way through the ancient machines guarding the seal of her past, and maybe the redemption of humanity.
A cutting journey into the madness of Mr Fish. Prepare yourself for intense katana fighting in first person and help Mr. Fish free himself from the evil spirit in his mind.
Neon Abyss is a frantic roguelike action platformer features unlimited item synergies and unique dungeon evolving system. Each of your raids diversifies the dungeon experience and every choice you make alters the ruleset of the dungeon.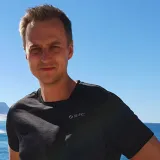 Mycket intressanta grejer i den där skörden. Jag kan lägga till Hypnospace Outlaw som släpptes häromdagen. Det är jättekonstigt och jätteroligt.
"Hypnospace Outlaw is a '90s internet simulator in which you scour Hypnospace's wide variety of weird and wonderful websites to hunt down wrongdoers, while also keeping an eye on your inbox, avoiding viruses and adware, and downloading a plethora of apps that may or may not be useful."
@Mattias Frost: 99% positivt, ja det får man ju ta och kika på!
Edit: Nja, spelade det i en timma, väldigt flummigt spel, inte för mig.
Leaf - 11 april
https://store.steampowered.com/app/1048960/Leaf/
Leaf is an exploration driven action adventure game where you're on a quest to stabilize two abandoned worlds. On your adventure you stumble across hidden weapons, spells and special items that might help you on your journey.